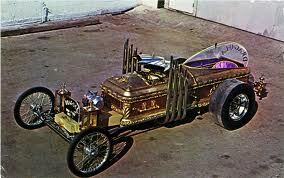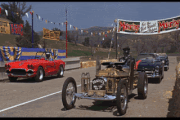 The Dragula is a drag strip car built by Grandpa in the episode of The Munsters: Hot Rod Herman. George Barris built The Dragula and The Munster Koach for the TV show:The Munsters.The front of the vehicle sported a marble gravestone with the legend: "Born 1367, Died ?".body of DRAG-U-LA was built from a real fiberglass coffin that Richard "Korky" Korkes was able to purchase out the back door of a funeral home in North Hollywood. The radiator was formed to look like a small brass coffin. The driver sat in the rear of the vehicle behind the engine, under a plastic bubble. The two rear tires were 10.50 -inch racing slicks, mounted on custom 10-inch Rader aluminum & steel wheels.Gas is consumed at a rate of 4 gallons per mile of embalming fluid pushed by the high powered Dupree Chrome Dome electric fuel pump.The original car was housed in a Planet Hollywood in Atlantic City, New Jersey, where it hung from the ceiling This Planet Hollywood location is now closed according to Planet Hollywood's website the car is now housed at the Volo Auto museum in the town of Volo,IL. 1 hour north of Chicago. Volo Auto Museum had the car completely restored in 2011. #2 is in Atlantic City in a museum. #3 is in Gatlinburg, Tennessee at the star cars museum, and there is no motor or trans or rear end in that car. #4 is owned by Ricky DeBanardo in New York. He is opening a museum some time next year. He is using it at car shows all the time as he loves to drive it. .Each hubcap was decorated with a large silver spider. The front tires were 4-inch Italian tires on Speedsport English buggy wire wheels. To extend the Gothic motif further, Barris installed four Zoomie style organ pipes on each side of the car in lieu of standard exhaust pipe, and mounted antique lamps on the front and rear.The .While the car came from George Barris' shop, the car was constructed by Richard "Korky" Korkes and others who worked under Korky's direction while he managed the Barris facility. An ornate Owens-Corning Fiberglass casket, trimmed in royal purple velvet silk and embodying a very lively 350 H.P. Ford Mustang engine with a 12 volt Autolite electrical system.The exterior of the casket, which rests on a tube chassis has a quiet antique gold finish with sedate Italian gold leaf.The dragula was only used in one episode, despite being shown in the end credits of every 2nd season episode.
.
Community content is available under
CC-BY-SA
unless otherwise noted.